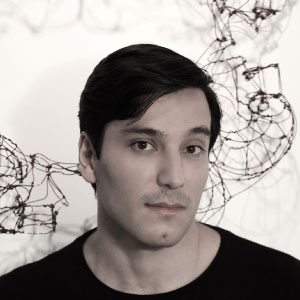 I live drawing in space. When I look at things around me, my eyes go over what is there and I am able to see the potential of transforming it into a three-dimensional drawing. I scrutinize each object, draw out its lines, and synthesize its forms. I begin to weave wires to draw the various faces of that object, thus creating a piece that is defined merely through the glow and shadows of the wire. With its various thicknesses, colors, and textures, this medium—unconventional for drawing—becomes a metallic fishing net that lets a first object appear.
At the same time, the illumination of these synthesized forms creates a second drawing of shadows in the surrounding space. An environment is created in which the figures increase and decrease in size, depending on the lighting and the distance from which the person is looking at them. This results in variations in the perception of the works, and even creates a sort of virtual space with which the viewer can interact as he/she is able to enter it.
This way of approximating reality lets me glimpse an infinite horizon of possibilities. I am able to see any object and transform it into a three-dimensional drawing. Up to this time I have run through the human anatomy, plant shapes, and animal shapes. More recently I have concentrated on architectonical elements, such as moldings, balaustres, gargoyles, and statues. In still other works, words or expressions I recall from childhood have translated into a kind of calligraphy exercise, written with fine copper wire. Each object or expression I choose contains a personal anecdote, and together they are a sort of journal that gives life to my inner world.
Angel Marcano—
Caracas – Venezuela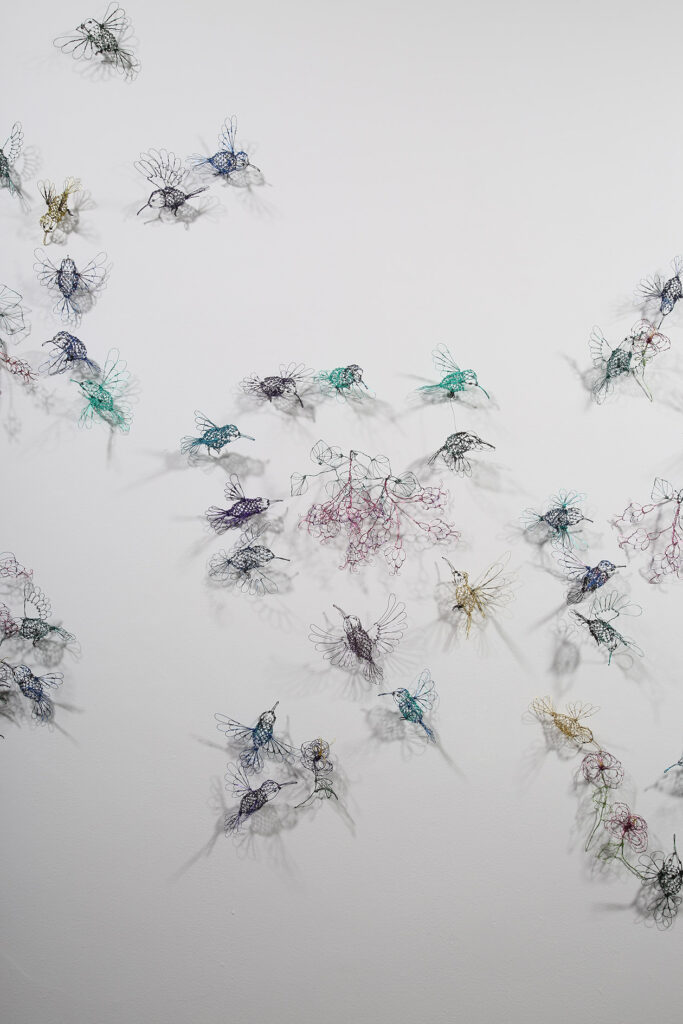 Colibri composition
Birds
Flowers
Enameled copper wire
2016
$ 165 ea. (Birds) / $ 55 ea. (Flowers)
About Angel Marcano
Angel Marcano, born in Cumana, Sucre. Venezuela in 1978 . Living and works in Caracas-Venezuela. He has participated in different individual exhibitions, collective and in national and international art fairs. He received 2008 AICA Emerging Artist Award, Internacional Asociation of Critics of Ats (Venezuelan Chapter). 2006 Frist Prize Certamen Mayor de Las Artes. Museo de Arte Contemporáneo Caracas, Venezuela. First Prize VII National Salon CANTV. Jóvenes con FIA (International Art Fair). Ateneo de Caracas, Venezuela.
When drawing with a material as unconventional as the wire, Angel Marcano manages to transgress the bidimensionality of the stroke to suggest a virtual volumetry. Hence in its plastic proposal, the volume becomes a three-dimensional drawing and it reaches new perceptions of the object of representation.
Click below to download full CV


Download File
Reviews
Rafael Castillo Zapata.
February 2009
(Translation by Eda Valero Figueira)
A SCRAWL IN THE AIR
Writing with a wire thread on a page that is air.
These days, when no one writes in longhand anymore, these days when very few people knit or crochet, Angel Marcano brings us back to the pleasures of calligraphy, knitting and crocheting; and he does it to display a chain of phrases and words that constitute a peculiar suspended writing. The pleasure of drawing with the needle of his pen a sequence of symbols threaded on a page; the pleasure of generating with a calculated and harmonious hand movement the ink-thread that flows as the style progresses, piercing the porous skin of the paper; the pleasure, almost archaic, of writing with chalk on the green tile of the school blackboard; all these, the artist brings to the traditional task of a diligent and patient wire thread that writes in the air.
The fingers and the jeweler's tweezers shape the wire without need for support, in the same manner as one knits a yarn chain, with the going and coming of the fine needle that hooks, pulls, ties, expands and assembles a large net from a thread in the air. In doing this, Marcano transports us in a way that cannot help but seduce us from the page or the blackboard on whose surface we witnessed, in our childhood, the miracle of beautiful calligraphy. Back then, our teacher's hand created the first symbols of the language we had heard, but not yet seen; the language we discovered in the capricious shapes of the organized letters, with their turns and strange curls, their insect feet, their hives, their torsions and contortions, in a never ending thread (in what was, without a doubt, a ritual scene of initiation into the world).
The artist takes us by the hand to the transparent volume of space, where he convinces us that it is possible to make of emptiness and air a place to write. Marcano invites us to participate in a game where the interlocking networks of signs are displayed like floating devices, like very light bodies that project their wiry, completely legible, shadow on the walls reflecting them. With this exercise in calligraphy, Marcano gives an unexpected depth to his writing.
Wire, no matter how thin, acquires in Marcano's hands, a subtle body whose shadow refers us to the original density of graphic inscription as the platonic supplement of the voice. The shadow of the suspended writing forces us to recognize that it is always there, in the place of something else, the same way a linguistic symbol is there, the presence of an absence. It reminds us that writing is but a representation of the voice and that a symbol represents an object. I would say that shadow reminds us of the semantic density of words we say, which we normally perceive in writing, concerned and distracted, as we are with the business of making ourselves understood—or perhaps trying to understand or decipher what we write and what others write to us.
The artist forces us to take conscience of the patency of feelings; he makes palpable for us the shadow of the spoken phoneme or the threaded graphic, the persistence of the intuited meaning in each phrase, in each word, in each letter. He makes us see the invisible: the feeling perceived in our mind, which he makes persist in that surprising shadow. Thus, at the same time, he invites us to think that the feeling is but a shadow, that the feeling is nothing other than the signs projected on the screen of our imagination, which we only see inside, until Marcano forces us to see them outside. And he makes us see it with words strung casually in the air, in a continuous or circular chain, doing calligraphy homework (planas)—not writing something a hundred times as we did when punished by a penalizing teacher for a silly childhood misdemeanor, which he misinterpreted and sought to remedy with those boring repetitions, again and again. These are constellations of symbols, like reds or woven wool skeins, alluding to a speech that resonates within itself, evoking tones and sounds of phrases said or heard and stored in our memories marked by sad or happy events, by surprise or complicity. What Marcano draws in the air are beloved words and their shadows, words pregnant with the meaning ascribed to them, ingenious, people in their dayt to day activities, their domestic ways of telling of an experience, the loving nicknames used for those they love, the sayings used to explain away a complex event, the formulas used to commend and recommend, the denigrating and consecrating clauses, the burlesque nicknames, the wise occurrences of a living and powerful experience.
Rolando Barthes said somewhere that a calligraphist always draws and that handwriting and drawing probably have the same origin–perhaps in the remote cave where our ancestors discovered not only the scrawl representative of a hurt bison, but also the abstract scrawl of a sign as the pure fingerprint that is a name. He did not say, however, that a calligraphist is also a knitter and that writing knits a cloth; that text is the same as knit (he did say this, but in another context), and that writing is knitting. With his planas that project shadows, that is, with his planas full of semantic density, Marcano demonstrates his expertise in all these arts of which he partakes in one refined and precise movement: calligraphist, drawer, and knitter of writing—that is sculpture—in air, of writing—that is sculpture—suspended and which nevertheless, creates shadow, creates feelings, and has weight and depth.