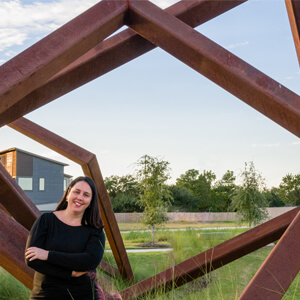 I locate my art into a neo-minimalist field. I look for the aesthetic of beauty and the harmonic consolidation of the rectilinear form. I seek to carry the artwork to its minimum and pure expression, to maintain the consonance and to achieve a great visual effect.
In my sculptures and installations, I have been developing a simple geometry, with a highly industrialized finish in a constant search of interplay with the space to create physical and virtual volumes that are able to awake our senses.
Throughout my creative process I feel passionate writing my ideas to become a better communicator. I work with a wide range of materials also in diverse sizes from monumental to small scale. I want to create sculptures that transform the visual environment, the function and the architecture of the place.
Bright colors are an important element in my creation. Each color has a visual vibration that hints into melodious rhythms.
In recent projects I have been mesmerized by the effect of light in my work. The dialogue between the luminous, chromatic and linear compositions. A poetic aura of Light, Hue and most important the rectilinear Line very much present, always defining my artistic language.
"Art is the most intimate and deepest root of the
human being to express himself freely as an individual.
Art is life, passion, harmony."
Mariana Copello—-
Houston – Venezuela
Violette Bule.
Match October 2019
I have always found it fascinating when an artwork is inspired by another one. It feels like the inspiring piece evolves and gets transformed without losing its essence. It also means that the piece is strong enough to capture another artist's attention by incorporating it into their creative process and artistic investigation. The resulting body of work gives new life to the original one, and creates new layers of interpretation and understanding. This is exactly what Violette Bule's photographic essay achieves; it takes an already accomplished and compelling sculpture and translates it into a two-dimensional exploration where angles, lines, different perspectives, light, and contrasts become a poetic and captivating visual experience.
Rosa Ana Orlando
Ritmo Lineal. Yellow/Blue
Aluminum/ Plexiglass
24"x 3"x 1"
Base 4"x 4"x ½"
Edition 3/5
$ 2,900
Chromo Ritmo available in : Yellow – Blue – Red – Green – Purple – Orange – White
Allegro Blue Serie available in : Yellow – Blue – Red – Green – Purple – Orange – White
Exterior Version: 60″x 13″ x 8″
Mariana Copello
MARIANA COPELLO
Born in Venezuela. 1976
Mariana Copello is a Houston-based artist who was born and raised in Venezuela. She holds a bachelor 's degree in Advertising and Public Relations from University of Zulia. Since very early, she looked for ways to point her career towards the arts. She worked at the Museum of Contemporary Art of Zulia and founded an art school for children in Maracaibo, where she taught for several years. She has lived in different countries, which has enriched her art perception. Copello moved to Houston in 2011, when she started her formal training as a sculptor. Since then she has been very active in the national and international art scene participating in a variety of exhibitions and art fairs in the US and abroad.
She completed the Advanced Studio BLOCK program (2018-2019) at The Museum of Fine Arts Houston, Glassell Studio School and a certificate in Sculpture in Spring 2019 from the same institution.
Click below to download full CV


 Download File
Reviews
Choreographic Abstractionism

Abstracciones sobre la Frecuencia Espacial, is a photographic essay that aims to capture the tenacious vibration exerted by Houston's natural light over the dynamic forms that configure this sculpture. My perspective proposes an unprecedented alphabet through fragmentation, unpinning, and mutation of the units that, from multiple points of view, converge in Copello's work, building a new language that reconfigure itself while being in constant movement in front of the viewer.
Anna Tahinci, Ph.D.
Art Historian
Geometric Abstraction in the 21st Century: Mariana Copello's
Frecuencia Geométrica 3+1 (Blue/Gold)
Mariana Copello's art brings Latin American modernist geometric abstraction into the 21st century. Her art is rectilinear and neo-Minimalist and her visual language engages the viewer into the golden ratio, music, and dance. In her sculptures and installations she masters lines and colors in both small formats and monumental dimensions.
Her interplay of lines and colors creates a unique rhythm and her deep understanding of color and color theory creates optical effects engaging the viewer into the fourth dimension of Time. Each one of Copello's artworks offers an immersive and dynamic experience for the viewer. Her colored forms seem to be dancing in space and ultimately the viewer becomes the choreographer of the piece.
Her wall installation Frecuencia Geométrica 3+1 (Blue/Gold) is a unique piece made in painted stainless steel in 2019. Frequency describes the number of waves that pass a fixed place in a given amount of time, the rate at which a vibration occurs either in a material or an electromagnetic field. Copello transforms the visual vibrations of geometry into positive and negative space exploring dualities: intellect and intuition, light and shadow, symmetry and asymmetry, loneliness and togetherness, and everything in between.
MARIANA COPELLO: ABSTRACT MATTER
In her post-modern abstraction, Mariana Copello proposes a rupture and at the same a dialogue with modernism. On one level, through the random and irregularly organized segments of pieces sticking one another in different asymmetrical order, Copello argues against the order and the rigid process of creation that exist in the modernistic approach, as well as in its academic tactics. The planches attach together on asymmetrical positions, and at different changing levels, giving the work an inventive movement and charisma. The sculptures reveal a dynamic constructive method of structural un-equivalency. A seductive twist of chance emerges on the ever changing positions of the planches. The works play on fortuitous compositional combinations creating surprise and incidental visual effects.
On another level, and pointing out more towards a classic vocabulary, the shapes of the sculptures are set through successive rectangular geometries that follow the golden proportion. The dominant rectangular segments based on the proportional harmonic ratio create great congruence and synchronization. The parts interact with majestic excellence outlining on a comparative serial measurement in successive expansion. The sculptures summarize a paradigm for Beauty and Harmony establishing a connection to the millenary Greek notions of canon and perfect proportion.
In Copello's Allegro Series (2014) and Impromptu Series (2015), a complex grid of superimposed rectangles spike into a potent energetic ascension just as the levitating rhythm of a cathedral or the dancing allure of a gothic building. It dominates a linear composition of ascending vitality in which the compendium of overlapped sections in soaring waves sets a prevalent absolute feminine magnetism. Perhaps echoing the artist's anima? The work rises up into upper cosmic levels where its physicality and "objectual" weigh is substituted by a subtle levitation of delicate spirit. It prevails a vivid drive of inner forces.
The artist has developed into another divergent minimal geometry, the cube with which she proceeds using the same constructivist method. In Geometria Caribe (2014), five cubic shapes in gradient sizes align in the space vertically or spread out in the wall. The modular segments assembly in perfect formation diminishing in size in a discrete and an autonomous linear configuration. The repeated cubic pieces stand from the wall as independent units. They float freely unattached and interplaying with the surrounding setting. Their aerial and imposing presence transforms the visual environment and the architecture of the place. Copello's simple geometry and its highly-industrialized finish on fiberglass or aluminum remind the simplicity and the "objectual" allure of Minimalism.
The bright colors of the works sustain solid connections to the subliminal impact of memories of nature in the artist. Her biographical history associated to the tropics, to her natal city of Maracaibo in Venezuela, weight outstandingly in the powerful chromatic forces of the sculptures. From primary reds and yellows to oranges and greens, her works define radical shines that inspire ethos and celebration.
Behind Copello's geometric constructivist arrangement hide an aural connection to music. The structural organization of the works prompts to pulsating cadences. An imaginary musical pentagram of beating tempo paces out in different cycles. The pieces reveal acoustic/optical resonances. Fictional melodies subliminally emerge from the compositional arrangement of the piece. It is on the viewer to discover the musical modulations from the visual forms of the sculpture, and to access to the reverberations, the inflections and echoes that emanate from the rich shapes and the accentuated colors that dominate in the works.
Mariana Copello with her arresting geometries is one of the emergent voices in America that sets up a new dialogue with what Michael Fried called "objecthood" as a notion for the purity and inner spirit of the abstract matter.